France and Paris are world-renowned for its delicious cheese, and this hands-on cheese workshop lets you dive into the country's cheesemaking history and heritage. Visit a traditional local 'fromagerie' (cheese shop), meet the cheesemakers, and learn the secrets of cheese making during a fun and interactive cheese workshop. Finally, sample some of the delicious cheeses paired with French wine.
At this time, you will really be able to make quite a cheese out of it! And even 3! And you can even walk away with it! Guided by your cheese maker, you will have a good time while staying focused on what is going on in your milk.
Each at his post, you will make your own cheeses that you can take home! Since there will be some free time, we have also prepared a cheese and wine tasting: the specialty at Androuet in partnership with the cheese school "Paroles de Fromagers" inside Paris.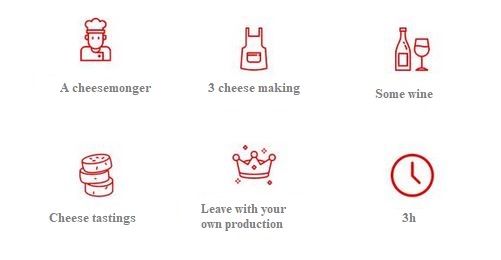 In this cheese workshop, you will learn how to make your own cheese, with one exception: you will not go to the farmer's house to collect milk! Course of the Cheese Making workshop: You will arrive in a 17th century vaulted cellar, then in a perfect lab for making your own cheese!
Guided by the cheese maker, you will learn various things about cheese making and become a real professional! First of all, before starting the production, you will discover the process of making a cheese, all guided by a Master Cheese Maker.
Then you will make 3 different cheeses, which you can take home. Finally, the workshop is punctuated by breaks, themselves punctuated by tastings of cheese and wine pairings. You will enjoy this cheese course !
Each workshop lasts 3 hours. You will be provided with a magnificent cheese apron in a large space dedicated to the world of cheese. In short, if you love cheese and want to make your own to wow your loved ones (and yourself!), This cheese workshop is ideal!
How to organize a workshop in our cheese school :
- Choose a date and your workshop.
- Define the number of participants.
- Confirm the order and go to secure online payment.
The conditions for carrying out the cheese workshops are adapted to meet health measures: reduced capacity, wearing a mask compulsory, and hydroalcoholic gel available.
Androuet and the Paris cheese school "Paroles de Fromager" highlight the profession of cheese maker by offering a friendly and responsible experience to companies and individuals. We create unique encounters with artisans proud to share their profession of cheese maker. Our cheese workshops are convivial experiences that aim to (re) connect to the local craft fabric.